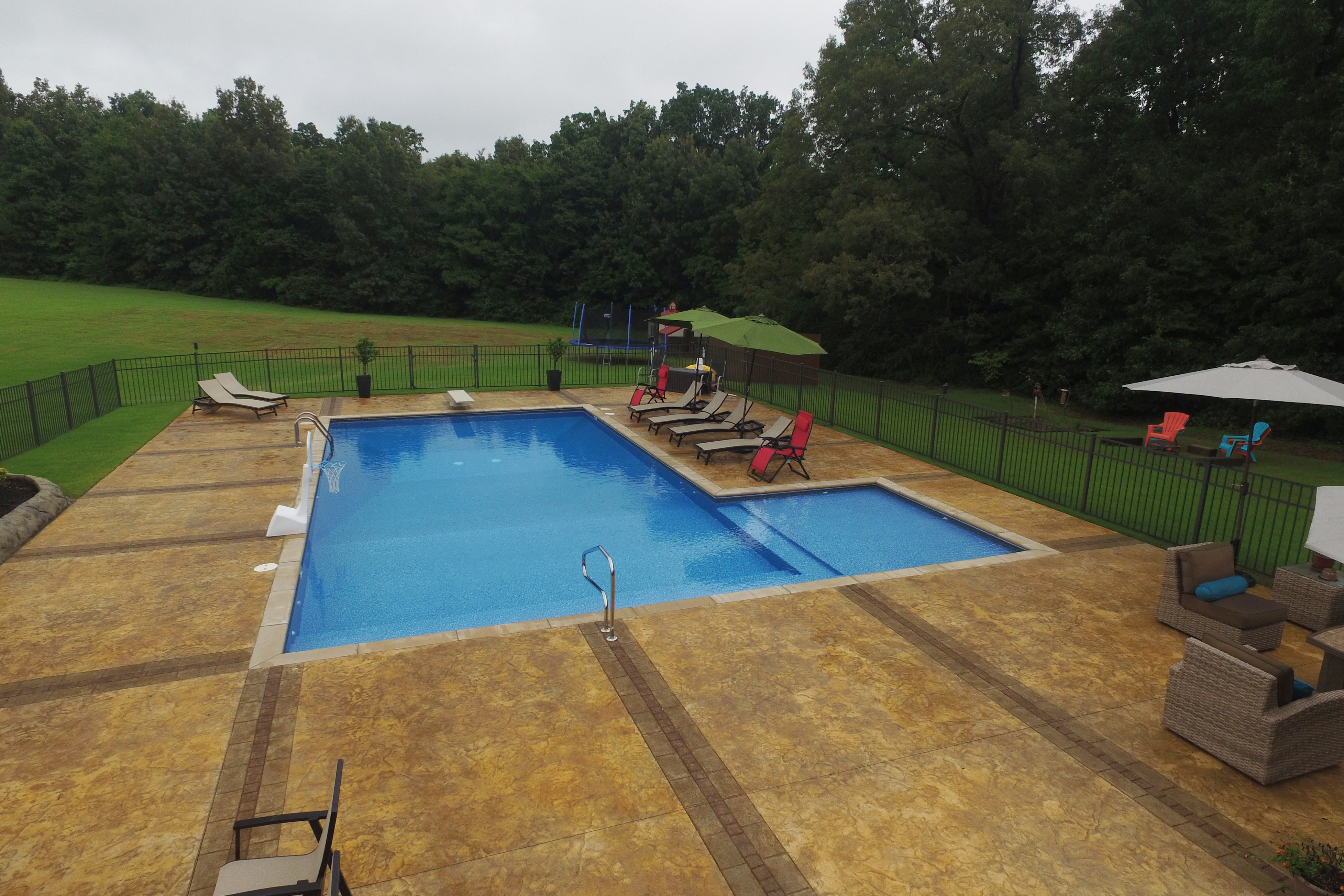 About Us
OUR STORY
Aloha Pools & Spas began in the Cook family backyard in Trimble, TN 1969. It all started when our dad, John W. Cook was teaching our oldest sister, Deb, how to drive. He had forgotten to remind her to put the car in park when she turned it off, and as she got out it rolled into our above ground pool, damaging it beyond repair.
Dad promised that he'd build us all an inground pool next year. Not only did he stay true to his word but went on to establish a family-owned and operated company. One that has maintained its longevity because of our dedication to always providing 100-percent customer satisfaction in all that we do.
Aloha Pools & Spas is built on the Godly foundation – honesty, hard work and a servant's attitude – that was instilled in our dad by his mother and passed along to us.
Our Dad had no idea the impact that building our family pool would have. Since 1969, the Aloha family has brought health, happiness, and families together to nearly 20,000 backyards in an eight state area. More and more families trust Aloha Pools & Spas to build affordable, low-maintenance pools with energy-efficient technology because we offer the finest design and construction services, as well as the most professional and knowledgeable staff and service technicians.
WE BELIEVE
…if you are happy, you will tell your friends.
…you should know where you stand on a jobs' progress.
…in owning our mistakes and fixing them.
…we are all human, and its okay to be human when serving others
…three references isn't enough. Have 10,000.
…it is better for us to be on the bad end of the deal.
…we don't have all the answers, and sometimes our customers have better ideas than ours.
…the customer is not always right, and neither are we. But they are right more often than we are.
…95 percent of our customers would recommend us and the other 5 percent will eventually come around.
…We love our families - our work family, our customer family and our biological family. And we'd love for you to be a part of one of them!
Where we are
At Aloha Pools & Spas, we are proud to be a leading supplier of exquisite spas and specially designed swimming pools. Our business has offices spread out around the central parts of the United States, including in Jonesboro Arkansas, Union City Tennessee, Marion Illinois, St. Louis and Cape Girardeau Missouri. Being in such central locations, are reach is far to deliver great products to a wide area of the central parts of the United States. We have also been in the pool business industry for over 50 years and have built a reputation for delivering the highest quality products and services to our customers.

Why we do it
Everyone deserves a place to unwind, relax, and make enduring memories with loved ones. We have a passion for building unique swimming pools and providing spas that not only improve the aesthetics of your home but also make your life more enjoyable and relaxing. We are dedicated to exceeding our customers' expectations by offering them products and services of the highest caliber along with first-rate customer service. What motivates us to accomplish what we do every day is seeing the delight and satisfaction on our customers' faces as they enjoy their new pool or spa.

Enjoyment
At Aloha Pools & Spas, we believe that having fun is an essential part of getting the job done efficiently. Our team is made up of professionals who are passionate about the pool business industry and are committed to providing the highest quality products and services to our customers. We take pride in our work and are dedicated to delivering the best possible experience to our customers.
Trust
We believe that trust is the foundation of any successful business relationship, and we work hard to earn and maintain the trust of our customers. With Aloha Pools & Spas, you can be confident that you are getting the best possible products and services, delivered with the highest level of professionalism and expertise.
Quality
We are committed to providing our customers with the highest quality products and services. We understand that our customers rely on us to deliver reliable and durable products that will stand the test of time. That's why we only work with the best manufacturers in the industry to ensure that our customers get the best possible products. We take pride in our work and are dedicated to delivering the best possible experience to our customers.
Browser Compatibility Warning
The browser you are using is not supported on this site. You may experience issues with some features on the site. It is recommended that you use one of the following browsers - Chrome, Edge, Firefox, or Safari.